We receive schematics for products designed by our customers, realizing reliable development with something extra from substrate artwork design to parts procurement, product assembly, inspection, and shipping. We deliver products with reliable quality.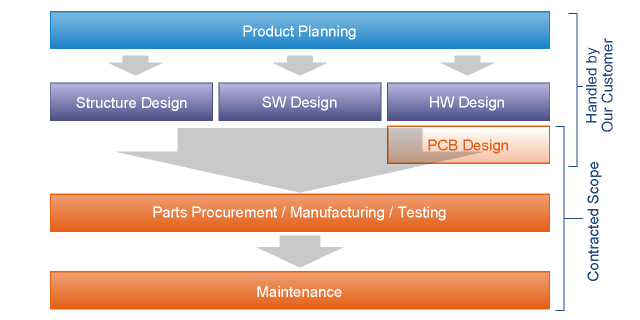 History of our Board EMS Business
| | |
| --- | --- |
| 1977 | Started business by accepting orders for board assembly for Mitsubishi Electric. |
| 1982 | Started accepting orders for surface equipping. |
| 1997 | Produced one million cellular phones. |
| 2002 | Expanded beyond only board shipment to include functionality inspection as final products. |
| 2005 | Produced a total of seven million cellular phones. |
| 2011 | Produced 500,000 telecommunication devices for security uses. |
| 2013 | Currently performing mass production for 29 companies. |
Rich experience in substrate artwork design
We have experience for substrate artwork design for several hundred types, from paper phenol single-sided substrates to 12-layer substrates.
Construction of optimal inspection equipment
We construct optimal inspection equipment based on the needed specifications, such as print substrate inspections, finished product inspections, and wireless-related inspections.
Material provision, acceptance inspection, storage / management
We have experience procuring generic and exclusive parts from 300 companies.
Depending on your needs, we also perform an acceptance inspection.
For material storage, we have equipment for strict temperature / humidity and refrigeration management.
Suggestions for optimization
We offer suggestions for optimization to our customers through design feedback that we discovered during manufacturing.
Obsolete part information
We not only release information, such as notices of changes or stopping production from parts manufacturers, we also search for replacements of obsolete parts.
Realizing environmentally friendly products
We not only have a structure to fit needs such as RoHS support and green procurement measures at each company, we can also support operations such as surveys.
Quality management system
We create a QC workflow chart for each product and procedure according to those directions. Also, we perform serial management for the products we have manufactured.
Examples of Contracted Work (Examples of Substrate Equipping)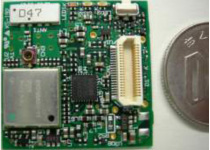 Compact, High Density(30 x 30 mm)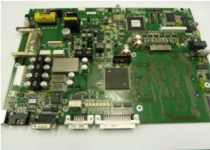 Mixing DIP and SMT(280 x 330 mm)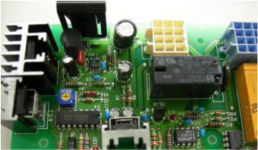 DIP (Axial / Radial)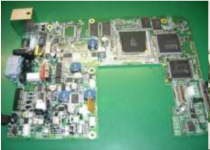 Unusually-shaped Substrate Mixing DIP and SMT(150 x 230 mm)