We use our specialty telecommunication technology to make our customers' wishes into reality.
The Telecommunication Company develops and designs all kinds of telecommunication devices based on the wireless / wired technology we have acquired over many years.
In recent years, we provide suggestions for changing existing systems or various sensors to wireless using our proximity wireless technology, particularly designated low-power wireless.
Of course, we also quickly provide products through all kinds of OEM and ODM.
Telecommunication Technology of the Telecommunication Company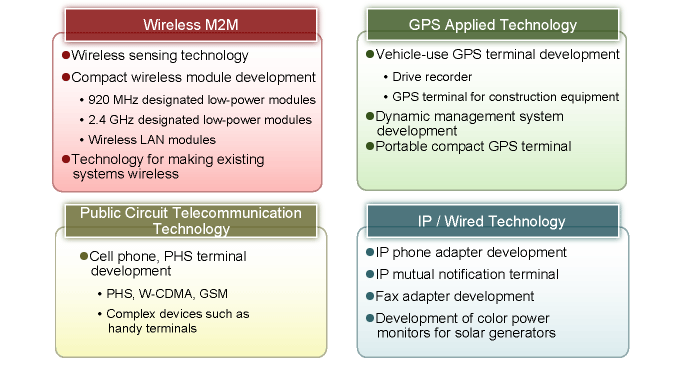 Business of the Telecommunication Company
Sale of wireless products developed in-house
Sensor gate systems, compact wireless modules, PHS terminals,
handy terminals, etc.
We do everything for designing all kinds of telecommunication devices.
We help with circuit design, antenna design, substrate design, chassis design, and even with technology for mass production.
We also support production of various types in small amounts. We have experience with devices for telecommunication, medicine, security, office work, vehicles, and more.
We take contracts for repair and maintenance of various telecommunication devices.
We perform highly-reliable maintenance and repair using the latest measuring devices.
We provide technical consulting for our customers.
We solve problems that occur during development, like antenna property improvement and measures against noise.
We can act in your place for acquiring various complex certifications.
We can give necessary technical support, and even handle applications and certification tests.
The main certification standards include TELEC, JATE, FCC, and VCCI.
Inquiries
Telecommunication Company, Solution Design Department, SE Team
salestc@miyoshi.elec.co.jp
Tel: 072-756-8622